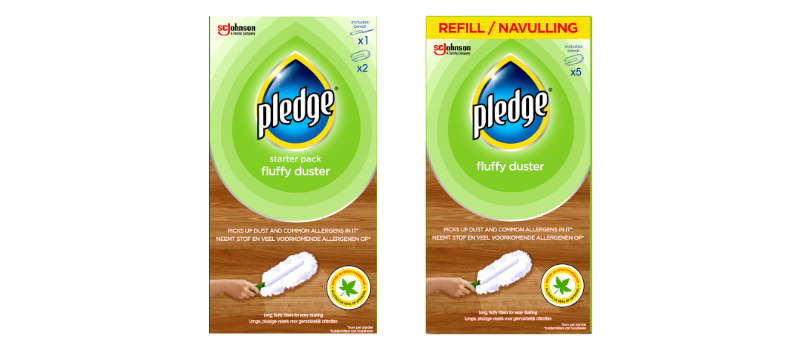 The Pledge Duster Starter Kit picks up unwanted particles like dust, dirt and lint. Bringing out the beauty in your home can be as quick and easy as a simple dusting. Pledge Dusters are made with long, fluffy fibres that remove dust and the allergens* in dust, dirt and lint with a few effortless swipes of the handle. Unlike a traditional feather duster, simply attach a disposable duster to the handle, dust your surfaces and toss away your dirty disposable dusters. This duster brush kit includes a duster handle and 2 disposable fluffy dusters. *From pet dander.
The Pledge Fluffy Duster is a handy tool that gives you fast and easy dust removal. Once you've tried it, you'll wonder how you did without it. It provides an effortless clean! With long, fluffy fibres for easier dusting, it also features an extendable handle to reach into inaccessible places. It quickly picks up unwanted particles such as dust, dirt and lint, with just a few easy swipes. It's a simple and fast way to bring out the beauty in your home. And here is a big bonus: unlike traditional dusters that get dirty and stay dirty, the Pledge Duster can be easily replaced with a brand new spotlessly clean refill. Simply keep the handle, and attach a fluffy duster refill. This convenient starter kit includes the extendable handle and 2 disposable fluffy duster refills. It's so fast and easy, and it works so well, you may just rediscover how satisfying dusting can be.
HOW TO USE:
Attach a disposable duster refill to the handle.
Dust by swiping across surfaces until handle has picked up dust, dirt and lint.
When duster becomes too dirty, simply remove, put in the bin and replace with a new duster
WHERE TO USE: Wood, Wood Laminate, Glass, Mirrors, Stainless Steel, Plastics, Granite (Sealed), Marble (Sealed), Electronics, Chrome, Quartz and More.
Warnings: Keep out of the reach of children. Do not use on hot surfaces (such as lights etc…) or wet surfaces. Do not use with any other cleaning product or water. Do not flush down the toilet. Do not wash the duster. Wash hands after use.