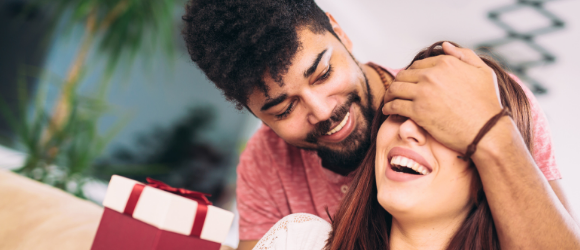 Keep safe this Valentine's Day
If you're sharing this Valentine's Day with a loved one, you may be thinking about how to make this day extra special.
Spreading the love on Valentine's Day can be difficult when living with an allergy. Many traditional ways of showing affection on this day could potentially expose you or a loved one to dangerous allergens, for example when sharing a meal and exchanging gifts.
Here are some tips to help stay safe this Valentine's Day.
Choosing or receiving gifts
Eczema:
Avoid gifts that might exacerbate symptoms of eczema, such as perfume, bath bubbles/oils or cosmetics.
See our Allergy to Cosmetics Factsheet
Food allergy:
Be sure that homemade food gifts include a full list of ingredients. Avoid cross-contamination by making sure that cooking areas are kept clean and clear of allergens during preparation.
Carefully read the labels of packaged food gifts.
Chocolate is a popular Valentine's gift, with many of them containing the 14 major allergens including nuts, peanuts and milk.
See our Food Allergy Factsheets
Planning a romantic meal at home
Shopping for free-from foods can be daunting, here are a few tips to help keep your meal safe from allergens.
Supermarkets and manufacturers offer a free of charge 'free-from list' for particular allergens. These usually include; milk, egg, wheat, gluten, soya, tree-nut and peanut, sesame, preservative, vegan, vegetarian, etc. Check their website for these lists.
Many supermarkets have their own-label free-from range. Be careful to check the full list of ingredients when choosing these products. The allergens will usually be highlighted in bold.
Be cautious when buying vegan products for an egg or dairy allergic person. These can sometimes still have traces of egg and dairy in them.
Adapt your favourite recipes to make them free-from. For example, you can swap plain flour for gluten free flour – these alternative ingredients may react slightly different during the cooking process, so you might need to practise the adjusted version before the big night.
Seek out special diet recipes. There are lots of cookbooks which cater for particular diets, and you will find an abundance of excellent recipes online. Try searching for special diet cookery, allergy recipes or similar.
Avoid buying food from bakeries or delicatessens where items are not labelled, unless staff can provide accurate ingredient listings and guarantee there is no chance of cross-contamination.
Having the night off and ordering a take away
If you are both fancying putting your feet up and relaxing with a takeaway from your favourite restaurant, follow these three tips to keep you or your loved one safe:
Order from a restaurant that is experienced in providing a delivery service or choose to collect your order in person to reduce the risk of cross-contamination during delivery.
Order from somewhere you have used before and understands your allergy.
 Order by phone or follow up an online order with a phone call and ask:

Do they have procedure in place to safely cater for a food allergy?
Is the meal prepared to order and cooked fresh?
How is food prepared to avoid cross-contamination
How food is packaged and transported to avoid cross-contamination